City Hall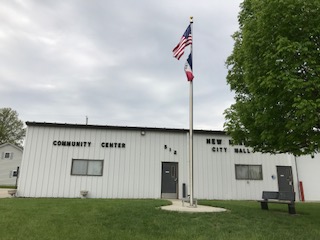 The City of New Market, Iowa City Hall is your resource for information and questions about our local government as well as services offered in our community. Home to the Mayor and City Council and all other service departments, we welcome you to our city and encourage you to call or stop by during business hours!
Business Hours:

We will be partially re-opening City Hall to the public starting June 5, 2020. Until further notice, the new City Hall hours will be every Friday from 9 AM to 12 PM. We will continue to be available by prearranged appointment. We will be providing and requiring hand sanitizer to be used by anyone prior to entering. We are requesting the wearing of masks by anyone who is coughing or sneezing, high risk, or taking care of someone who is high risk. We ask this for the safety of not only our City employees but the public as well. We will be limiting the number of people allowed in the building at any one time to ensure social distancing guidelines set by the State of Iowa.
We encourage everyone who does not need to come into City Hall to continue to use others methods. We can still be reached by email or phone.
Hours of Operation (available by phone and email)
Mon, Tues, Thurs 8am-1pm
Wed 1pm-5pm
City Hall open to public
Fri 9am-12pm
2020 Holidays:
New Year's - Wednesday, January 1
President's Day - Monday, February 17
Memorial Day - Monday, May 25
Independence Day - Friday, July 3
Labor Day - Monday, September 7
Veteran's Day - Wednesday, November 11
Thanksgiving - Thursday, November 26 & Friday, November 27
Christmas - Thursday, December 24 & Friday, December 25
New Year's - Thursday, December 31 & Friday, January 1, 2021
Frequently Asked Questions
What hours is City Hall open?
City Hall is open from 8am - 1pm Mon, Tues, Thurs, Fri.
Wed 1pm-5pm.