COVID-19
Images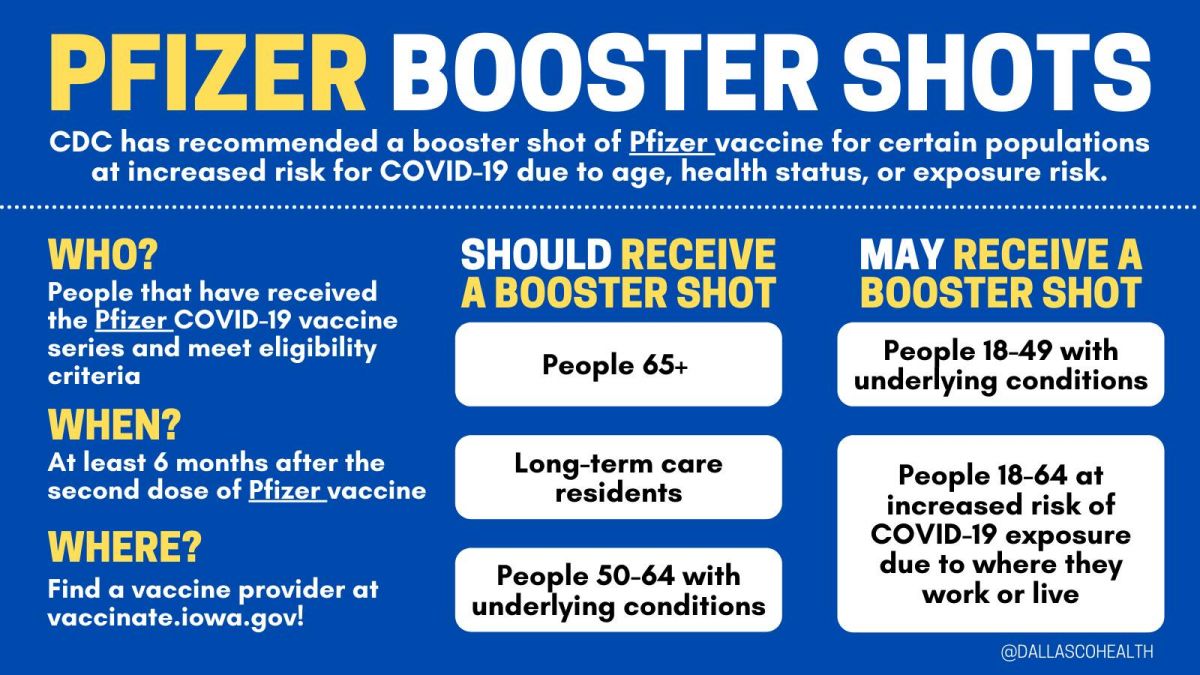 Pfizer Booster
This page was created in order to keep the Community of New Market up to date with all the changing information and resources available related to the COVID-19 virus.
TCPH COVID-19 Weekly Case Update

2/3/22-2/9/22

Taylor

Adams

Child (0-17)
4
1
Adult (18-40)
5
3
Middle Age (41-60)
5
3
Older Adult (61-80)
8
4
Elderly (>80)
2
2
Total New Cases
24
13
Total Deaths
21
13
7-day Positivity
7.9%
7.8%
14-day Positivity
13.6%
10.0%
% Population Fully Vaccinated
46.4%
55.6%
% of Fully Vacc. With Booster
55.3%
54.7%
% of 5 yrs of age and older
49.6%
58.8%
% of 12 yrs of age and older
54.0%
63.2%
% of 18 yrs of age and older
57.6%
66.9%
% of 65 yrs of age and older
84.9%
82.5%
7/31/2021
In an effort to ensure accurate and consistent information is provided to residents, we will resume reporting of COVID-19 data for Taylor and Adams County on a weekly basis. This will occur every Wednesday to coincide with the state's COVID-19 dashboard updates.
Information provided in today's update is a little behind but includes information received from 7/21/21 – 7/28/21.
Both Taylor and Adams Counties have confirmed cases of the Delta variant.
The Delta variant (B.1.617.2) is currently the most common COVID-19 virus strain circulating around in the US, the region, and in Iowa. The Delta variant was originally found in India in December 2020 and was first seen in the US in March 2021. The Delta variant creates a tremendous amount of virus in the body – far more than previous strains. A great deal of that virus thrives in the nose and throat early in infection. The result is the virus spreads easier (an infected person has more virus = there is more virus to spread) and vaccinated people could become unwilling vectors for spreading disease.
The vaccine is still working! Some vaccinated people may test positive and are infected, but do not experience illness. Some experience mild illness. More than 97% of hospitalizations are unvaccinated people.
The vaccine produces antibody response primarily in the blood. In the early stages of infection, those antibodies might not make it to the nose until the virus makes its way into the lungs where your immune response ramps up.
Plain and simple, if the COVID-19 virus strains continue to spread from person-to-person, new variants will continue to occur. COVID-19 vaccines are effective against the variants that are currently circulating, so all eligible people are urged to get vaccinated as soon as possible. Getting vaccinated protects against the current virus strains and decreases the chances of a vaccine-resistant variant developing in the future.
5/3/2021
On Friday the CDC and FDA lifted the pause on the Johnson & Johnson vaccine allowing providers to begin administering the vaccine. The use of the vaccine was paused to review the possible link between the vaccine use and the formation of a rare form of blood clots. These clots were reported in women age 18 to 48 years of age and occurred at a rate of approximately 1 in every 1 million vaccinations. The CDC panel determined that the benefits of being vaccinated with the J & J product outweighed the potential risks associated with the formation of the blood clots. Moving forward, pubic health will be offering the J&J and Moderna vaccines at all our upcoming clinics. Information on each of the vaccines are provided to each recipient. Our nurses are a great resource and can help guide you in deciding what vaccine is best for you.
Vaccination rates have slowed and we know there are many people that are undecided about receiving a Covid-19 vaccine. As a community healthcare resource we've worked hard to provide the information you need to make a decision based on sound and reputable sources. All three vaccines licensed in the United States have a high level of safety and effectiveness. These products provide up to 95% effectiveness against Covid-19 infection. Some might ask why to receive the vaccine if there is only a 1 to 2% chance of death from Covid-19. The risk of morbidity or developing long term health conditions are much higher than the 1 to 2% death rate. These conditions have the potential for permanent damage to any individual. More information on the long-term effects of COVID can be found here: https://www.mayoclinic.org/diseases-conditions/coronavirus/in-depth/coronavirus-long-term-effects/art-20490351
Not being vaccinated or delaying vaccination when the vaccine is available does impact other people in that the virus can continue to thrive and mutate. This can prolong the pandemic by allowing the virus to infect those that have not been vaccinated and potentially giving rise to more contagious and deadlier strains of the virus. Mutations of the virus to more contagious and/or more deadly variants of the virus do have the potential to lower the effectiveness of the vaccines that have already been administered. Mutations can also lead to reinfection in those that believed that they possessed immunity through natural Covid-19 infection. The idea of herd immunity is based on reducing the number of people that are at risk of infection. Those that are unvaccinated have a higher risk of infection and unfortunately, this virus can affect the extremely healthy as well as those with health issues. More information on the concern of variants can be found here: https://www.cdc.gov/coronavirus/2019-ncov/cases-updates/variant-surveillance/variant-info.html
We've seen long lasting sickness and death impact residents in our communities. It has delayed health and wellness activities and consumed an enormous amount of healthcare resources on all levels. Vaccination is one of the most powerful tools we have to overcome COVID-19. The pandemic isn't over just because we're over the pandemic.
The following list provides all of the clinics public health will be providing through the end of May. No appointments are needed, just walk in!
TAYLOR COUNTY, UNITED CHRISTIAN PRESBRYTRIAN CHURCH – BEDFORD
Wednesday, May 5th, 1 – 6pm
Saturday, May 8th, 9am – 4pm
Wednesday, May 12th 1 – 6pm
Wednesday, May 19th, 1 – 6pm
Wednesday, May 26th, 1 – 6pm
TAYLOR COUNTY, COMMUNITY CENTER – LENOX
Thursday, May 6th, Noon – 7pm
ADAMS COUNTY, CHI WELLNESS CENTER- CORNING
Friday, April 30th, 9am – 1pm
Friday, May 7th, 9am – 1pm
Friday, May 14th, 9am – 1pm
Friday, May 21st, 9am – 1pm
♦♦♦♦♦♦♦♦♦♦♦♦♦♦♦♦♦♦♦♦♦♦♦♦♦♦♦♦♦♦♦♦♦♦♦♦♦♦♦♦♦♦♦♦♦♦♦♦♦♦♦♦♦♦♦♦♦♦♦♦♦♦♦♦♦♦♦♦♦♦♦♦♦♦♦♦♦♦♦♦♦♦♦♦♦♦♦♦♦♦♦♦♦
4/27/2021
We continue to support vaccination for all eligible individuals. This is one of the best tools we have to return to a sense of normalcy in the near future. Right now vaccine providers in Taylor and Adams have a plentiful supply of vaccine. Currently, we are administering the Moderna vaccine.
Public Health will be transitioning to walk-in clinics starting now through the month of May. Currently we will be available at the following locations on the given day/time:
TAYLOR COUNTY, UNITED CHRISTIAN PRESBRYTRIAN CHURCH – BEDFORD
Saturday, April 24th, 9am – 3pm
Wednesday, May 5th, 1 – 6pm
Saturday, May 8th, 9am – 3pm
Wednesday, May 12th 1 – 6pm
Wednesday, May 19th, 1 – 6pm
Wednesday, May 26th, 1 – 6pm
TAYLOR COUNTY, COMMUNITY CENTER – LENOX
Wednesday, May 6th, Noon – 7pm
ADAMS COUNTY, CHI WELLNESS CENTER- CORNING
Friday, April 23rd, 9am – 1pm
Friday, April 30th, 9am – 1pm
Friday, May 7th, 9am – 1pm
Friday, May 14th, 9am – 1pm
Friday, May 21st, 9am – 1pm
Other vaccine providers in Taylor County are also available for vaccination appointments. Feel free to reach out to them:
Bedford Drug
Where: 419 Main St., Bedford IA 50833
When: Appointment only during the week
How: Call for appointment
Phone: 712-523-2385
Nurara-Lenox
Where: 107 N. Main St. Lenox, IA
When: Appointment only during week
How: Call for appointment
Phone: 641-333-2260
Corning Hy-Vee Pharmacy
Where: 625 Davis Ave., Coring, IA
When: varied appointment times
How: Call for appointment/ Online appointments https://www.hy-vee.com/my-pharmacy/covid-vaccine
Phone: 641-322-3454
Other:
Hy-Vee Pharmacies-Call or register online https://www.hy-vee.com/my-pharmacy/covid-vaccine
♦♦♦♦♦♦♦♦♦♦♦♦♦♦♦♦♦♦♦♦♦♦♦♦♦♦♦♦♦♦♦♦♦♦♦♦♦♦♦♦♦♦♦♦♦♦♦♦♦♦♦♦♦♦♦♦♦♦♦♦♦♦♦♦♦♦♦♦♦♦♦♦♦♦♦♦♦♦♦♦♦♦♦♦♦♦♦♦♦♦♦♦♦♦♦♦
COVID Recovery Iowa is here to help

- Counseling will take place via virtual sessions, chat or phone call.
- People of all ages may join groups online to find support and learn new strategies
to cope with the effects of the pandemic in a variety of creative ways
Click here for more information
♦♦♦♦♦♦♦♦♦♦♦♦♦♦♦♦♦♦♦♦♦♦♦♦♦♦♦♦♦♦♦♦♦♦♦♦♦♦♦♦♦♦♦♦♦♦♦♦♦♦♦♦♦♦♦♦♦♦♦♦♦♦♦♦♦♦♦♦♦♦♦♦♦♦♦♦♦♦♦♦♦♦♦♦♦♦♦♦♦♦♦♦♦♦♦♦
Public drinking water safe to drink; Know what to and what not to flush down your toilet
♦♦♦♦♦♦♦♦♦♦♦♦♦♦♦♦♦♦♦♦♦♦♦♦♦♦♦♦♦♦♦♦♦♦♦♦♦♦♦♦♦♦♦♦♦♦♦♦♦♦♦♦♦♦♦♦♦♦♦♦♦♦♦♦♦♦♦♦♦♦♦♦♦♦♦♦♦♦♦♦♦♦♦♦♦♦♦♦♦♦♦♦♦♦♦♦
Note: The Small Business Relief

Application will be available on the Iowa Economic Development website on Tues., March 24, by 8 a.m.
For more information click here....
♦♦♦♦♦♦♦♦♦♦♦♦♦♦♦♦♦♦♦♦♦♦♦♦♦♦♦♦♦♦♦♦♦♦♦♦♦♦♦♦♦♦♦♦♦♦♦♦♦♦♦♦♦♦♦♦♦♦♦♦♦♦♦♦♦♦♦♦♦♦♦♦♦♦♦♦♦♦♦♦♦♦♦♦♦♦♦♦♦♦♦♦♦♦♦♦
♦♦♦♦♦♦♦♦♦♦♦♦♦♦♦♦♦♦♦♦♦♦♦♦♦♦♦♦♦♦♦♦♦♦♦♦♦♦♦♦♦♦♦♦♦♦♦♦♦♦♦♦♦♦♦♦♦♦♦♦♦♦♦♦♦♦♦♦♦♦♦♦♦♦♦♦♦♦♦♦♦♦♦♦♦♦♦♦♦♦♦♦♦♦♦♦
Proclamation of Disaster Emergency
3/17/2020
Closing of businesses such as bars, gyms, theaters, etc.
Removes regulations on health care providers, institutions, tele-medicine, etc.
Any driver's license which expired within the last 60 days will be valid and will not expire
♦♦♦♦♦♦♦♦♦♦♦♦♦♦♦♦♦♦♦♦♦♦♦♦♦♦♦♦♦♦♦♦♦♦♦♦♦♦♦♦♦♦♦♦♦♦♦♦♦♦♦♦♦♦♦♦♦♦♦♦♦♦♦♦♦♦♦♦♦♦♦♦♦♦♦♦♦♦♦♦♦♦♦♦♦♦♦♦♦♦♦♦♦♦♦♦
Coronavirus (COVID-19) Information
3/16/2020
The health and safety of our customers and employees is a top priority of the City of New Market management. Below are a list of resources where you can find factual information on Coronavirus causes and prevention measures.

Information from the CDC - Corona Virus
Information from the CDC - Hand Washing Protocol
Video from the CDC - FIght Germs. Wash Your Hands!
♦♦♦♦♦♦♦♦♦♦♦♦♦♦♦♦♦♦♦♦♦♦♦♦♦♦♦♦♦♦♦♦♦♦♦♦♦♦♦♦♦♦♦♦♦♦♦♦♦♦♦♦♦♦♦♦♦♦♦♦♦♦♦♦♦♦♦♦♦♦♦♦♦♦♦♦♦♦♦♦♦♦♦♦♦♦♦♦♦♦♦♦♦♦♦♦
CDC Recommendations on Mass Gatherings
3/16/2020
Get Your Mass Gatherings or Large Community Events Ready
Interim Guidance for Coronavirus Disease 2019 (COVID-19)
Guidance as of 3/15/2020
Large events and mass gatherings can contribute to the spread of COVID-19 in the United States via travelers who attend these events and introduce the virus to new communities. Examples of large events and mass gatherings include conferences, festivals, parades, concerts, sporting events, weddings, and other types of assemblies. These events can be planned not only by organizations and communities but also by individuals.
Therefore, CDC, in accordance with its guidance for large events and mass gatherings, recommends that for the next 8 weeks, organizers (whether groups or individuals) cancel or postpone in-person events that consist of 50 people or more throughout the United States.
Events of any size should only be continued if they can be carried out with adherence to guidelines for protecting vulnerable populations, hand hygiene, and social distancing. When feasible, organizers could modify events to be virtual.
This recommendation does not apply to the day to day operation of organizations such as schools, institutes of higher learning, or businesses. This recommendation is made in an attempt to reduce introduction of the virus into new communities and to slow the spread of infection in communities already affected by the virus. This recommendation is not intended to supersede the advice of local public health officials.
♦♦♦♦♦♦♦♦♦♦♦♦♦♦♦♦♦♦♦♦♦♦♦♦♦♦♦♦♦♦♦♦♦♦♦♦♦♦♦♦♦♦♦♦♦♦♦♦♦♦♦♦♦♦♦♦♦♦♦♦♦♦♦♦♦♦♦♦♦♦♦♦♦♦♦♦♦♦♦♦♦♦♦♦♦♦♦♦♦♦♦♦♦♦♦♦
Coronavirus - CDC Website
3/6/2020
Common human coronaviruses usually cause mild to moderate upper-respiratory tract illnesses, like the common cold. Symptoms generally appear 2-14 days after exposure, and can include:
Fever
Cough
Shortness of breath
While there is currently no way to prevent - or treat - the virus, there are things you can do to protect against it. Visit the CDC website to learn more about the ways you can help ensure a healthy you - and a healthy workplace.
Iowa Dept of Public Health COVID-19 Fact Sheet
Iowa Dept of Public Health - Preparing for COVID-19
♦♦♦♦♦♦♦♦♦♦♦♦♦♦♦♦♦♦♦♦♦♦♦♦♦♦♦♦♦♦♦♦♦♦♦♦♦♦♦♦♦♦♦♦♦♦♦♦♦♦♦♦♦♦♦♦♦♦♦♦♦♦♦♦♦♦♦♦♦♦♦♦♦♦♦♦♦♦♦♦♦♦♦♦♦♦♦♦♦♦♦♦♦♦♦♦
Iowa Workforce Development
The State of Iowa, the Federal government, and the Small Business Administration are offering loans and grants for small businesses impacted by COVID-19. The links to information sheets below provide summaries of these programs, as well as links with contact information and application procedures as currently available. Small businesses are also encouraged to contact their banks or credit unions for additional information.
Iowa Division of Banking (IDOB) Summary of SBA Loan Programs.pdf
Small Business Grant and Loan Programs - Information Summary Sheet.pdf
Please note: IWD is providing this information as a courtesy and will provide updated information as it becomes available. IWD is not involved in processing these loans and grants.
♦♦♦♦♦♦♦♦♦♦♦♦♦♦♦♦♦♦♦♦♦♦♦♦♦♦♦♦♦♦♦♦♦♦♦♦♦♦♦♦♦♦♦♦♦♦♦♦♦♦♦♦♦♦♦♦♦♦♦♦♦♦♦♦♦♦♦♦♦♦♦♦♦♦♦♦♦♦♦♦♦♦♦♦♦♦♦♦♦♦♦♦♦♦♦♦
Taylor County Public Health Agency
There is a national shortage of commercially-produced PPE including face masks, and public and private officials are working to address national and global supply challenges. Due to the current limitations on supplies of face masks, there may come a time during this response when commercially manufactured masks are no longer readily available.
Please see below for guidance from Iowa Dept of Public Health on how to construct homemade cloth masks if you would like to support healthcare providers in our area (and beyond).
Please contact your local hospital, medical clinics, or long-term care facility prior to making a donation. The facility will provide information on where to drop off donations outside of the facility.
Relevant Documents